Let's talk the moments that followed that El Camino drive
Warning: Spoilers ahead for El Camino and Breaking Bad
I will start by saying that Breaking Bad, in my opinion, is one of the best—if not the best—TV shows I've ever come across. The key over the course of the five season run is consistency. There are shows that come close (I use "come close" liberally) like Lost and Game of Thrones, but both ended with divisive and lackluster finishes. I could write a whole piece on why I think so and I still don't think it would fully explain things…but I digress.
RELATED: What To Expect From The Kimetsu no Yaiba Movie
My first reaction to hearing about El Camino was, "Oh no. I don't know how to feel about that." Because Breaking Bad just really tops the scales and, with something that is flawless, what is it that you can't do? Improve it. It's like asking for another Harry Potter book that takes place after he defeats Voldemort. You'd be playing with fire, not because you risk destroying a built story but because you may actually end the series on a "Meh, I guess it was okay; I like the old stuff better" instead of the already present "Yes, that was the perfect ending." Case in point: Harry Potter and The Cursed Child (disclaimer: I read the book and didn't see the play. I know it isn't the correct medium). As the old adage says, "If it ain't broke, don't fix it."
So after a six-year hiatus, did El Camino just break Breaking Bad (yes, I went there)? No, it didn't. Read on.
Did we really need this?
No, we didn't. Let me explain.
El Camino takes place immediately after Breaking Bad, wherein we find Jesse Pinkman (Aaron Paul) escaping the Brotherhood, a group that took him captive and forced him to cook meth, in an El Camino. Through a series of close encounters, key dialogue and ol' fashion gun fights, Jesse makes his escape and manages to start a new life for himself with a blank slate in Alaska.
It was a good watch, getting closure for Jesse and seeing him fulfill his 180-degree turn. It's clear that there were just too many things that tied him to his past, and this was a good take on him getting his freedom. At the end of the day, there was no way Jesse could rebuild where he was and El Camino was a two-hour telling of that story. Breaking Bad has a history of titles with double meanings (Face Off, anyone?) and this is no exception. Directly translated from Spanish, "el camino" means "the way;" it serves as our movie title and is both a literal and figurative vehicle for Aaron Paul's character to find his way, his ending.
Except after all the storytelling, as a fan of the series, I didn't really need it. Sure, it kept a lot of the old elements and continued the story but this was gravy with the perfect fried chicken. The perfect fried chicken didn't need it. As a fan, of course I still watched it to see what happens, but I would say, you can't close a conclusion with a follow-up conclusion.
Extending Breaking Bad 
My problem with this extension is that it comes late, maybe five years too late. I feel like I would've enjoyed this more if it was released closer to the series' end. I will go on to say that I've only seen a few episodes of Better Call Saul, another show in the Breaking Bad universe, so I don't exactly know how the two connect but this is Breaking Bad, the Breaking Bad. If you're going to come out with something six years after, I'm going to want it to make me feel like the show did when we finished things in 2013. Sadly, this doesn't.
The time between the show and the movie created a rift that the movie doesn't bridge. The 122 minutes do not manage to provoke the same sentiment as Breaking Bad. At no point in the movie did I feel like, "This is why I love Breaking Bad!"—which, after six years, is what I wanted to feel as a fan.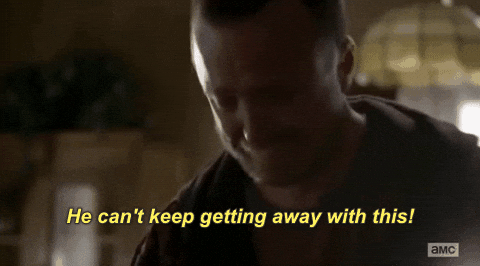 RELATED: The Undeniable Allure of Cults and Some of the Worst in History
Yeah, Bitch
Aaron Paul takes this one home and I'm glad that after all this time, the Jesse Pinkman I saw in Breaking Bad didn't change. This goes for the whole gang, Vince Gilligan's writing and directing included.
It's the Breaking Bad I know, which I love. Dialogue, nuances, callbacks to past occurrences all spot-on and it still comes together well on screen because, above all else, I still feel that I'm in the same universe as Heisenberg and Gus. I half-wished for Aaron Paul's character to drive by a Los Pollos Hermanos, but I don't mind that he didn't.
But because Breaking Bad has set such a high bar, all of this is expected. Performing at the expected level hardly merits a perfect score.
Verdict
The movie retains the essentials without the highs and lows, hardly making up for lost time. The spirit of Breaking Bad is kept well intact by El Camino but at an incrementally above minimum level. After a six-year gap from possibly the best show on TV, above minimum and as good as it is, doesn't cut it. It does an okay job with bringing things back and continuing the story, but I wish that it rode a larger roller coaster, the type that its predecessor took me through. Not bad by any means but not in the Breaking Bad hall of fame.
7/10
Words Yosu de Erquiaga
Art Alexandra Lara