Read Time:
3
minutes
The Love Actually love stories are…questionable
Love Actually released in 2004, and it has since been a staple on Christmas favorite lists. The multiple narratives, from Sam's courageous (yet last minute) move to Mark's iconic "To me, you are perfect and my wasted heart will love you" placards, have become pegs for prom proposals, engagement proposals and other such declarations of love.
But it's been more than a decade since Love Actually was released and…well, it just hasn't aged well. The love stories, in hindsight, are far more problematic than they are ~actually~ ideal.
RELATED: How Dash & Lily Melted My Cold, Dead Heart
Mark, Peter and Juliet
Apparently deciding that the first holiday Juliet and Peter are spending as a married couple would be the best time to profess his love for a woman he barely spoke to, Mark is a creep and kind of a shitty best friend. Our hearts go out for all the loves unrequited, but making this kind of move on your girls' wife is a little uncalled for. And don't argue that it was right to let her know—she already knew. I genuinely believe that Mark was inappropriately shooting his shot.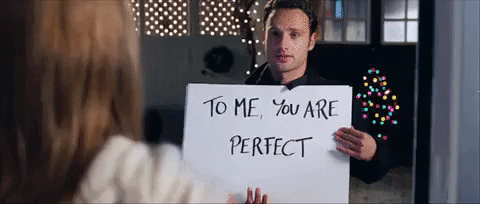 Mia and Harry
Ah, the less-than-steamy office romance. Let's make this one short: Harry was a dick to his wife and we hate cheaters. Mia, on the other hand, was a little sleazy and all kinds of ridiculous. We're all for going after the man you want—as long as he isn't already tied down.
Jamie and Aurelia
As a fan of Colin Firth, this kind of hurts for me to write. But even when I was younger and more naïve, I couldn't believe this love that was too strong to be stopped by language barriers. How were we supposed to buy that the two could make it through anything? We understand that she saw his passion and he saw her kindness, but those things just don't seem to be enough to move your entire life for someone.
Sarah and Karl
While arguably one of the "lighter" storylines, that of Sarah and Karl is toxic whichever way you look at it. Sarah's obsession with the chief designer was already a bit of a red flag, but so was her willingness to give him another try even though he fled the moment he learned about Sarah's mentally ill brother. And Karl, other than running away at the first sight of danger, might have completely taken advantage of Sarah's crush on him.
Karen and Harry
Why, yes, Harry does get another mention in this rundown of the worst relationships in Love Actually. In case you need more of a reminder, Karen and Harry had their troubles as usual married couples do. But when Karen finds a gold necklace she thinks is for her, her heart soars—and sinks when Harry gives her a Joni Mitchell CD instead (because, you know, the necklace was for his secretary).
But what was really problematic for me is that Karen confronted Harry about it and he admitted to the same…but it didn't seem like the couple really had their conclusion. That is, of course, until scriptwriter Emma Freud confirmed that the two had stayed together, but that "home isn't as happy as it once was."
Maybe it was for the kids, maybe it was out of fear…but whatever it was, we can only describe it as unhealthy.
RELATED: 2020 Metro Manila Film Festival Is Happening
Love Actually is just one of those Christmas classics that don't age well with a maturing audience. We might still love Hugh Grant dancing around Downing Street and the adorable rendition of All I Want For Christmas Is You, but we just aren't sold on the love stories anymore. We don't want it. We want more, and we know better.
Thank god.
Art Alexandra Lara