In Queer Eye: We're in Japan!, key cultural differences are highlighted

—and challenged 
Streaming giant Netflix is no stranger to Japanese series with Tidying Up with Marie Kondo and Terrace House in their roster of shows. The Emmy-winning Netflix exclusive premiered a global special Queer Eye: We're in Japan! earlier this month, which featured the Fab 5, four heroes and special guests. This drew in mixed reactions from viewers.
Crossing cultures is something they addressed with great caution and sensitivity. The members of the production company—crew and producers—involved in the making of the mini-series are Japanese, which included their own interpreter Lena. The show shed light on issues that are culturally embedded in the people but are simply set aside.
Model-actress Kiko Mizuhara from The Weeknd's I Feel It Coming MV and Norwegian Wood, Haruki Murakami's bestselling book-turned-film, was the Fab 5's personal tour guide. She shared popular destinations and also explained and referenced a fair number of Japanese customs and norms.
RELATED: Required Viewing: TV Series with Non-Traditional Leads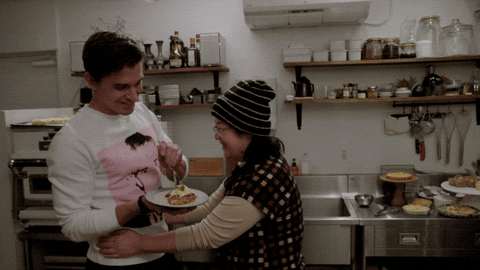 Episode 1: Japanese Holiday
Yoko Sakuma is a 57-year-old divorcée who works as a hospice nurse. (She is also fond of Audrey Hepburn and Roman Holiday, of course!) She opened up her home to take care of patients and even established a community center called the Kuma-Chan House. She has forgotten herself in the process—even giving up her own bedroom. She shared remnants of her past, highlighting the death of her sister. In a week, she learns to prioritize herself and bake a mouthwatering apple pie—in the arms of the endearing Antoni.
E

pisode 2: Crazy in Love
Being gay is still generally considered taboo in Japanese society. Kan is a well-traveled young professional who works for a beauty brand (much to Jonathan's delight), is fluent in English and is in an interracial, long-distance relationship with his partner Tom. His shy exterior is just a façade of his audacious character hoping to break free—with the help of the Fab 5, of course.
Special guest Kodo Nishimura or "The Monk in Mascara" is an openly gay makeup artist who also happens to be a devout Buddhist monk. The New York educated artist is most renowned for his work at the Miss Universe pageants. (He even worked with OG Fab 5 member Carson Kressley.) He shares his story with Kan in an intimate dialogue, "When I was becoming a monk, I was very nervous… I asked my master, "Is it okay that I wear heels and makeup?" But he told me, "If it helps you to spread the message of equality, then I think it's okay." Because in Buddhism, everybody is equal."
Episode 3: The Ideal Woman
Kae is a painfully timid 23-year-old Manga illustrator who is ashamed of her body upon experiencing years of bullying in her teenage years. She has never felt recognized and draws women with her ideal body type. She lives at home with her mother and sister. 
In a heartwarming conversation with Antoni, Kae and her mom, he opens up about his own relationship—or lack thereof—with his mom. He shares, "She's [Kae] got baggage like we all do, things that we experience growing up, things that weren't resolved. Just because we don't address it doesn't mean that it goes away. I don't have a relationship with my mother. The essence of any type of a conflict between a parent and their kid is usually, like, a lack of communication or not understanding each other."
When asked when was the last time they said I love you to one another, Kae's mom shares, "In Japan, there's no culture of saying things like "I love you" or hugging and kissing. I have feelings of wanting to do such things but I repress them."  This is just one of the many moments in the series when cultural differences are acknowledged and addressed. The mother-and-daughter duo promise to start showing their love for one another more regularly.
Episode 4: Bringing Sexy Back
"I am saved by the fact that you exist" is one of the most powerful statements from the entire mini-series. This surprisingly comes from Makoto, a 37-year-old who works in music and treats his wife as a business partner rather than his spouse. It is a relationship seemingly based on convenience and companionship. Through the years, they've lost intimacy as a couple, most especially because they hardly communicate. As a man who has a fear of establishing a relationship with himself, the Fab 5 hopes to help him "change from a rock into a psychedelic flower."
 

 

View this post on Instagram

 
Despite cultural differences and language barriers, one thing is sure: We all aspire for connection—to love and be loved.
Stream Queer Eye: We're in Japan exclusively on Netflix.
Art Alexandra Lara