Netflix gets the dark makeover right in The Chilling Adventures Of Sabrina
There's no denying that Netflix has changed the way people all around the world watch television. But that said, the company has also experienced its fair share of backlash in the last couple of years. Sometimes, good ideas just aren't good ideas. Riverdale, while popular now, raised a lot of eyebrows when it first aired. No one understood why the Archie Comics characters lived in a dark town with even darker people—sometimes it's still hard to understand why. But hey, Netflix has finally given the moody makeover to a fitting classic in The Chilling Adventures of Sabrina.
Our favorite teenage witch is not how we remember her. She's bolder, louder, more courageous and living in 2018.
The premise of Sabrina Spellman's story has always had the leeway to be a little darker and scarier. A teenager with a connection to magic? A budding witch with strengthening powers and a choice to make between the mortal and magical worlds? It was a match made in heaven—and Netflix clearly planned the wedding.
The first episode starts off like any good teenage romance. We see a young Sabrina (Kiernan Shipka) out with her friends and her boyfriend at the movies, her smiling while everyone else cowers at the scary movie that's unfolding. They run into their teacher afterwards, invite her out and she declines (an unfortunate option to take, as you would later find out). After the group dissects the movie they just watched, Sabrina is brought home by boyfriend Harvey (Ross Lynch).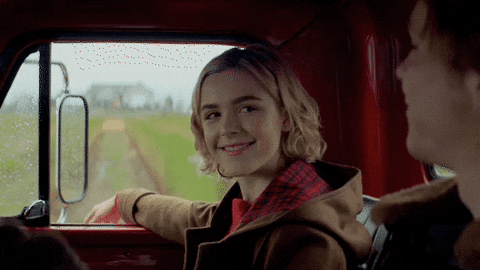 Then things start going down a dark road—both figuratively and literally. As it's made clear that Sabrina soon has to choose between the mortal world and the magical world, we're introduced to aunts Hilda (Lucy Davis) and Zelda (Miranda Otto). These women are both strong in their own right but differ greatly in demeanor and how they want to help Sabrina choose the path of her father (and theirs).
The words they use are frightening, too. They throw in "Dark Lord" and "Dark Baptism" in casual conversation like it's nothing, mixed in with some creepy foreshadowing of a dark woods, attacks and witches hanging from nooses. But despite this, her family history and the Spellman name, Sabrina chooses to stay in the world of non-magic humans.
What follows is a season full of twists, turns and difficult decisions to be made. As the dark world tries to chase Sabrina and ruin her world as she knows it, Sabrina's powers grow stronger (as does her stubbornness).
Is The Chilling Adventures of Sabrinaworth the watch? If you're in for some light scares, a slight trip down memory road and some fun on the weekend before Halloween, then the answer is yes.
Art Alexandra Lara