Strong cast, decent antics
Is it just me or does it seem like everyone's attempting to create their own cinematic universe? Zombieland, the first installment from the franchise of the same name, won the zombie-loving genre thanks to a great cast and overcoming the nearly impossible feat of mixing comedy and the undead (zom-com is real) at the time it was released. Remember hearing about Columbus' (Jesse Eisenberg) quotidian but surprisingly necessary rules for the first time (rule#4: seatbelts), Tallahassee's (Woody Harrelson) brutal zombie kills of the week or that entire zombie-infested amusement park face-off? Yeah, Zombieland Double Tap doesn't quite live up to the cult classic. 
For one, Double Tap happens a decade too late. In the sequel, we're reunited with the original cast, Columbus, Tallahassee, Wichita (Emma Stone) and Little Rock (Abigail Breslin), director Ruben Fleischer and writers Rhett Reese and Paul Wenick (so you know, fans like myself had high expectations). We find our four slayers living in an abandoned White House, struggling if not chafing against domestic life. But then Columbus proposes to Wichita and Tallahassee's turned into the overbearing "dad" to Little Rock, who just wants to flee the coop because she's a teenager now. This prompts the two sisters to leave because one fears that she's become too attached to her boyfriend while the other feels that she'll never grow up to the person she needs to be because Tallahassee treats her like a little girl. So as in the first film, the men follow and they meet a couple of new people along the way, including stereotypical blonde Madison (Zoey Deutch), who's survived Zombieland by living in a freezer at Pinkberry. Don't get me wrong, Columbus' "nice" new girlfriend is funny, but her dumb blonde character feels like a blast from the past and not quite what audiences are looking for in this decade. 
Meanwhile, Little Rock has left Wichita and eloped with Berkeley (Avan Jogia) to Graceland (and later Babylon), a.k.a the land of post-apocalyptic hippies slash pacifists. The pair leaves the "the Beast" (Tallahassee's modified presidential limousine stolen by Little Rock) at an Elvis-themed motel run by Nevada (Rosario Dawson) in favor of a tamer ride. If you've seen the first movie, you'd know that Tallahassee is an Elvis fan, which then makes it obvi for Nevada to be his love interest. If not because she's also a fan of the King, it's because Rosario Dawson is a badass babe and perhaps the only new character we needed.   
We're also briefly introduced to Albuquerque (Luke Wilson) and Flagstaff (Thomas Middleditch); both of whom have uncanny similarities to our male heroes. Albuquerque and Tallahassee exchange banters for a little bit while Flagstaff and Columbus engage in a humblebrag of rules v. commandments. Okay, funny but was it really necessary? (Maybe not; didn't see how crucial they were in establishing the strength of the new super zombies or, as Columbus calls them, the T-800s.)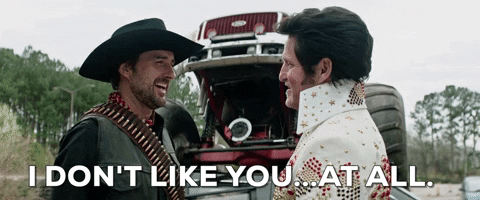 Anyway, our band of zombie slayers eventually reach the promised land, where the final showdown takes place. But to enter, they'd have to give up their guns, melt them and turn them into peace-sign pendants. Left without weapons, what remains of humanity would have been chewed off the face of the earth if not for Tallahassee's genius plan—involving exploding biodiesel and using barricade shields—and Nevada's mad monster truck driving abilities.
Where part one succeeds, part two fails, even with a strong cast and decent antics. It struggles to move forward and instead, uses the same formula, as well as Bill Murray post-credits, in hopes that it will work again. Sadly, Zombieland Double Tap offers too little (and too many non-pivotal throwbacks) to hold on to or for audiences to feel anything at all, so it'd be best the franchise doesn't resurrect again.
RIP Zombieland, we loved you.
Art Alexandra Lara