Read Time:
7
minutes
A fit test and review of five bras that don't show under clothes (or do they?)
Appreciation for the cute, frilly bra aside, one frustration I've had with this wardrobe staple is that I've yet to meet one that covered all the bases. Support? I suppose. Lift? Okay, sure. But fit? I've had more "meh, I guess that's fine" moments than I've had "oh my gosh, this bra is the one."
As rounds of trial and error have confirmed, clean lines are difficult to achieve––even with the crowd-pleaser, the t-shirt bra. Complete undetectability is even harder to come by. And though the brassiere counterpart of the invisible knicker continues to rise in popularity, not everything out there fulfills the promise in real life.
It could be that I'm overcritical of frivolous non-issues like armpit and back fat, but hey, if the truly seamless, untraceable bra does exist, consider the interest of my inner bodycon enthusiast piqued.
RELATED: What Breasts Look Like After Pregnancy
Five seamless bras, one ultra-tight top: for this Test Drive Diary, I put the essential seamless bra of five popular undergarment brands to the test. Here, they go up against the one article of clothing I'd given up on since realizing that for a high-neck, long-sleeved top, it sure reveals a lot. Which of these bras prove invincible and near-invisible? The results right ahead.
CALVIN KLEIN Form Push-Up Bra, ?3,650
The heftier the price tag, the higher the expectations. When it comes to a single piece of underwear that costs almost four grand, that's just where my head is at. This bra can vouch for the idea, though: The Calvin Klein Form push-up bra almost feels like a hug: no gapping or spilling over at the top, everything fits and sits just right and the silky, lightweight fabric is a joy to slip into. Unlike other push-up bras, this one is padded but isn't supported by an underwire: it doesn't feel constricting or as though there's tension underneath the padding responsible for that nice lift. It's seamless all around, too. If the anatomy of a bra gives you a breakdown of 12 or so parts, each one likely bound together by a seam that shows underneath clothing, the Calvin Klein Form Push-Up Bra is a streamlined thing of beauty that simplifies all that. Another positive thing to note is that the band wrap or wings (the portion of the bra that goes around the side and then the back where the clasps are secured), while a standard 1½ inches in width, doesn't cause bunching or bulging where they are typically expected. The bra smooths right over the back area with no problem at all.
The Form Push-Up Bra would have been perfect…if not for the slight side boob bulge that could have been prevented by opting for a bra with a bigger cup size. I'm a 34B, but to accommodate the push-up feature here, a 34C would have given me more to work with along with better coverage. For this Test Drive Diary, I also wound up with something in dark blue (the only colorway that still had my size), which evidently didn't work in the brand's favor considering we're gunning for something near-invisible underneath a white top. It came as no surprise that strap adjustment rings at the back were an issue (a minor tradeoff if all you're after is a well-fitted seamless push-up bra).
Click here for the complete Calvin Klein Underwear store list.
MARKS & SPENCER Shape Define Smoothlines™ Underwired Full Cup T-Shirt Bra, ?1,850
If there's one thing I appreciate about underwear shopping at Marks & Spencer, it's the almost buffet-style display and offering of the many colors, kinds, cuts and silhouettes it carries. Chances are the store has precisely what you're looking for and you'd find it in no time. The strongest contender in the seamless bra category here? The Shape Define SmoothlinesTM Underwired Full Cup T-Shirt Bra, a bestseller according to the store's bra specialist (a statement later validated by a 4.6 rating I came across online). This bra is everything that previously tried and tested t-shirt bras claimed to do and more, flattering and following the natural curves of the body so it's virtually undetectable.
The bra cups are the thinnest and most velvety soft of all the brands tested here. Still, the Shape Define SmoothlinesTM Underwired Full Cup T-Shirt Bra manages to provide maximum support (it comes with an underwire) and full coverage (it's lightly padded), which makes it a perfect candidate for the essential, everyday undergarment. This seamless bra features a noticeably larger band wrap made of just a single ply of the fabric (a stretchy polyamide-elastane blend) that embraces the smallest part of the waist and covers the back area without any added tension: no lumps, bumps and bulging. The bra straps are also thinner and more delicate; they're made of more of the same seamless material as the bra cup so they don't dig into the shoulders. The only gartered portion that might call attention to itself is the adjustable strap found at the back. All in all, this one's looking like the bra to beat.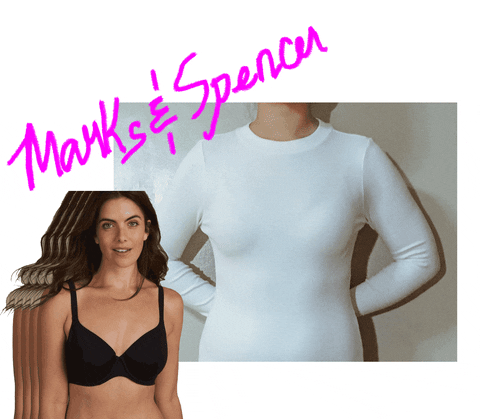 To find a Marks & Spencer near you, click here for the complete store list.
WACOAL SmoothBra by Mood, ?2,495
On to the puffiest bra in the group: the SmoothBra by Mood has a lot going on, but I mean that in the best way possible. It's a seamless, wired and padded push-up bra that promises smooth lines all over. (Another one with smooth built right into the name, so expectations are high.) What's noteworthy about this is that it manages to side-step one common fit problem for push-up bras with a plunging neckline: the unflattering delineation at the top portion of the cup that meets the top part of the bust, which could read that the bra is either too tight or too loose. Either way, this is the kind of bra outline that's obvious underneath clothing (even if that item only mildly clings to the body). The SmoothBra by Mood, however low the neckline, rounds everything out nicely and gives the appearance of a full-coverage bra. Full disclosure, too: this is the perkiest I've seen the girls and it does appear as though I've gone up a cup size.
The other impressive thing about this is that its band wrap "disappears" underneath clothing. The softer nylon-elastane blend that it's made of feels a lot more like a lightweight cotton shirt than it does, say, swimwear, so it glides along with whatever shirt I'm wearing (I tested this out with several other tops to check). There's no gathering, folding or puckering of fabric in certain places no matter how much I move around.
Save for the metallic adjustment rings (yet again), this bra would have been the perfect seamless bra.
Click here for the complete Wacoal store list.
RELATED: One Style Suits All: Meet the Universally Flattering Swimsuit
SLOGGI ZERO Feel Bralette, ?1,595
"Feel free, feel light, feel comfortable––but don't feel your underwear." Cute messaging and the array of vibrant colors aside, there are plenty of reasons the ZERO Feel Bralette champions function over fashion, somewhat claiming its own space in the seamless bra game. Though I'd never encountered this kind of bra before, it comes as no surprise that the folks at Triumph have come up with something new again.
The ZERO Feel Bralette comes with softly padded push-up cups (teardrop-shaped cutlets that shift around the way removable swimsuit pads do, but it's nothing a bit of adjusting won't fix) that are built into a sports bra-type undergarment made of superfine microfiber. No clasps, no adjustment rings, no closures, no under-band, no rules: this bra gets straight to the point. Unlike the standard bra, this follows a different sizing format as well, carrying XS (30ABCD to 32AB) through XL (40BCDE). For ladies who would rather skip the laborious process of fitting and refitting bras in the search for one that is just right, cut your losses with the ZERO Feel Bralette.
After taking this out for a spin and being impressed (because of its no-fuss seamless finish more than anything), I admit that getting it in all colors and just calling it a day has crossed my mind. This one is seamless all around, means it and lives up to the claim. The only dead giveaway would be that in this trial, I opted for black. I imagine the ZERO Feel Bralette would pass with flying colors given the nude version. Now, for the caveat: this bralette is a bitch to put on straight out of the shower or on a humid day. The Dri-Fit fabric, while sturdy and perfectly elastic, can easily coil into itself. I also see the mild support being a make-or-break issue for bustier ladies. Bras were designed to redistribute the weight of the breasts and the effort required to support them (typically, reallocated to the band and the shoulders); this bralette doesn't serve that purpose.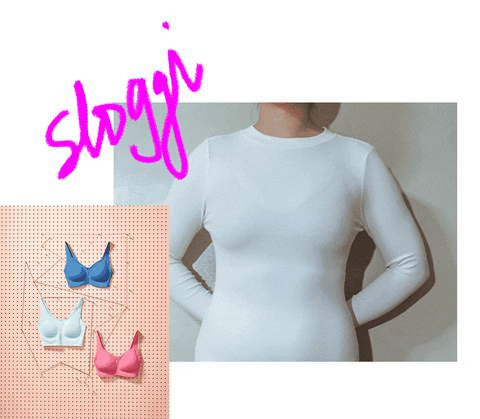 Thinking of shopping Sloggi? Click here to look for a Triumph store, where Sloggi can be found, too.
UNIQLO Wireless Bra, ?1,290
Leave it to a brand like Uniqlo to simplify something as painstaking as bra shopping. Bra cups A through C covered by a single bra? This is proof that, once again, Uniqlo is ahead of the curve when it comes to innovating fabric––and maybe even innerwear in general. I've raved about the AIRism Ultra Seamless High Rise Brief before and went into this with high hopes for its equivalent in the bra department.
Consider my skepticism tempered because this bra does fit like a glove. The Wireless Bra (Beauty Light) is a molded brassiere that does away with wiring completely but provides ample support just the same. Its breakthrough radial cup technology (for real now: automatic, self-adjusting cups) allows the bra to easily fit any bust.
What left me bewildered was that although I picked out a size 34/36ABC, I felt a strain on the under-band, signaling that the bra ran a little tight. Manageable, however uncomfortable at times and even ended up showing in the test drive photos (spot the slightly elevated side seams). Should I have sprung for a larger size? Only another fitting will tell. Till then, I regret to say I'm not nearly as sold on this bra's seamlessness as I was the AIRism knicker's.
To find a Uniqlo near you, click here for the complete store list.
The winner of this round is a bestseller for a reason. Our search ends with the Shape Define Smoothlines™ Underwired Full Cup T-Shirt Bra. Fit, form, comfort and an actually seamless effect: this little number from Marks & Spencer checks all the boxes. That said, I'd have to grant Wacoal's SmoothBra by Mood a special mention, too, for coming in a close second. If it were all about the power of the push-up in this bra search, it would have taken the top spot. Then again, that might be worthy of its own Test Drive Diary altogether.
In the meantime, why not rethink that bra drawer of yours? If bras do in fact only have a lifespan of nine months to a year, you may legitimately have some (much more informed) bra shopping to do.
RELATED: I Go Commando From Time To Time And It Feels…
Art Alexandra Lara