Read Time:
3
minutes
A fantastical tribute to a true musical icon for new and hardcore fans alike
Towards the end of Rocketman, Taron Egerton playing larger-than-life rock star Elton John poses a semi-rhetorical question: "Maybe I should've tried to be more ordinary." Although he says this while in group therapy for addiction and alcoholism, there is a fantasy element in the scene as John has visions, as well as conversations with some of the most impactful people in his life—his mother, his father, an old lover and manager, his grandmother and even his younger self.
It's a function of the film to remind us that Elton John is the complete opposite of ordinary. Else, why bother making a film about him in the first place? Everyone in the world with a pair of ears (and, perhaps, even some who don't) knows who Elton is and what his contributions are to the world of music and art. But for Elton himself to contemplate a less flashy, more understated existence points to the heart of the movie—we know who Elton is, but a scarce few know the person offstage and out of the spotlight.
Rocketman is a glimpse into this world—of a childhood with emotionally vacant parents, of formative years filled with uncertainty and self-doubt and of undeniable talent and sky-high ambition that eventually lead to unbelievable success. But the film doesn't stop there and goes on to showcase Elton's struggles with his insecurities and that deep-seated, inescapable fear of not fully connecting with someone. His relationship with his songwriting partner Bernie Taupin; his efforts at proving himself to disbelieving managers, cunning record company executives, and most importantly, to fickle audiences; and his downward spiral into the familiar rock star trope of drug and alcohol addiction—it's all there, glorious and unblinking for all the world to see.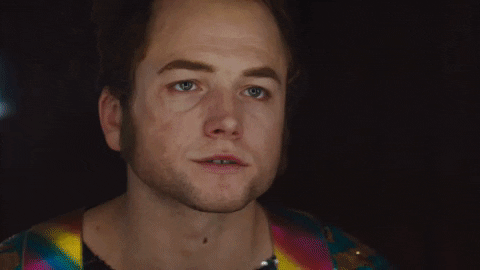 Director Dexter Fletcher's smooth, confident handling of the material deserves special notice. To commit a person's life to film is daunting enough, but multiply that to infinity when it concerns a legend and superstar beloved by generations of music fans. But Fletcher's steady hand is what elevates it from merely being popcorn entertainment into absorbing, cinematic accomplishment. It's nothing short of amazing how he translated his reverence for Elton and his life into a thoroughly lively and absorbing spectacle.
The set pieces for the musical numbers are jaw-dropping, especially the transition of the former Reggie Dwight into Elton John set to "Saturday Night's Alright (For Fighting)," and his first taste of the rock superstar life with his lover John Reid (played by an appropriately smooth and sexy Richard Madden) by his side.
But Fletcher also knows when to pull back and allow his actors to shimmer and shine, which lead star Egerton gets to do, both literally (in fabulous, sequin-filled costumes that Elton himself wore) as well as figuratively, in dramatic sequences that prove his mettle as one of the most gifted actors of his generation. We're never quite sure how much of his performance is directly aping Elton or an interpretation of his understanding of who Elton is, which is good, because you never want perfect facsimiles when it comes to actors starring in high-profile biopics.
Hardcore fans of Elton John will appreciate Rocketman for celebrating the life of a true musical icon, while newer fans will find something to love in how his legacy and influence has seeped into contemporary music and culture. It doesn't even matter that the film mixes real life with touches of fantasy—Elton himself wanted it that way. (Besides, if he wanted a 100-percent accurate accounting of his life, Rocketman would have been a documentary). 
Words Matt Leopoldo
Art Alexandra Lara