Read Time:
3
minutes
The '90s cult movie is being made into a TV series 
"Mean Girls meets Riverdale meets a Lizzo video" is how the Clueless reboot is being described as—but, are we totally buggin'?
After more than 20 years, the 1995 classic is being made into a drama-mystery TV series by CBS TV Studios. It is at the helm of writers Jordan Reddout and Gus Huckey (Will & Grace). Still set in high school, it centers around Dionne this time, after Cher Horowitz—originally played by the ageless Alicia Silverstone—disappears.
An ode to '90s nostalgia, to honor one of the best coming-of-age comedy films in movie history, let's take a look back at some of the most notable moments from the film—and the lessons we gathered.
Don't discount the power of a great outfit.
Before Lookbook and online shopping, Cher had her very own walk-in closet and a software to mix and match her outfits. For her driver's test, she needed her "most responsible-looking ensemble," a white collarless shirt from Fred Segal. She may not have passed (the gal was distracted!) but she still looked pretty great. Plus, her iconic fashion moments produced countless Halloween costumes to this day—and was even subject of Iggy Azalea and Charli XCX's Fancy.
It's okay to make the first move. 
Whoever said that women can't make the first move is living in the Old Testament. This may mean sending yourself a box of chocolates or clumsily pushing off a pen from your desk to pique his interest. Don't miss out on the chance to verbalize your attraction because—let's face it—guys are clueless. (And please, if you want a real relationship, just lay off the high school boys.)
Don't let people box you—in however way they perceive you as.
In a pivotal scene, Cher is asked if she's still a virgin. While munching on breadsticks, she proudly says, "I'm not a prude, I'm just highly selective. I mean, you see how picky I am about my shoes and they only go on my feet." Many will pressure you to follow the cultural norms and question your values; let them. PSA: You have nothing to prove to anyone.
RELATED: The V Word: Everything You Need to Know About Virginity Before You Lose It
Help other people live up to their potential—and don't use it against them.
Wanting to use her influence for good, Cher convinces her best friend Dionne to help out their sartorially-challenged classmate and newcomer Tai. She asks, "Don't you want to use your popularity for a good cause?" It actually makes for a highly satisfying makeover montage. Tai's newfound popularity strains their friendship and creates distance between them. Regardless, do good because you want to—not because you have something to benefit from it.
P.S. Makeover or not, you look fantastic!
You can't solve everything with a shopping spree.
Fresh from another shopping spree in Beverly Hills, Cher is in a predicament after an argument with Tai. She realizes that, all along, she begrudges her of a relationship because she actually loves Josh, her stepbrother from another mother (apparently, it isn't incest). Lesson: Filling that hole with material things is going to leave you running on empty. You deserve a treat once in a while (but believe me, my fellow millennials, you also deserve financial stability). Confront the problem and pave way for a resolution, which doesn't involve going all-out.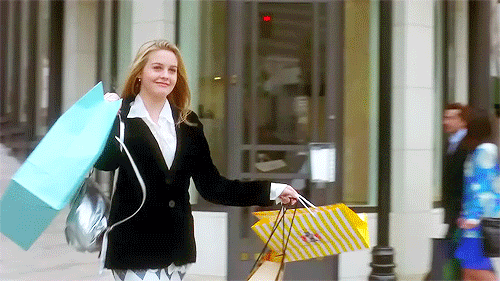 Whether you're a purist or have mixed feelings about the reboot, I think it's safe to say that nothing beats the original—please prove me wrong.
Stream Clueless on Netflix.
Art Alexandra Lara