At one point or another, we all wanted to be part of these badass girl gangs
I'm sure I'm not the only person who's found solace in fictional girl gangs. Not necessarily those up-to-no-good hooligans but badass, crime-fighting and fun-filled groups of girl best friends. On days where my older relatives used the landline and I hadn't yet gotten the hang of instant messaging to chat with friends, these fictional girl squads were the answer to my loneliness.
Until now, I still find myself turning to women-led movies when I need an escape or a boost of confidence. The representation, the feeling of inclusion. It's like you're part of the team. That said, I couldn't let women's month wrap up without paying homage to the fictional groups of girls that helped me realize my worth and abilities, as early as a young girl and as recent as a twentysomething.
RELATED: Rock Out to These 6 All-Girl Bands
Sailor Soldiers (Sailor Moon, 1991)
The Sailor Soldiers were my early introduction to magical powers used for crime fighting. Mystical powers, glamorous transformations and an obligation to protect the galaxy from evil powers were definitely a new concept then. Looking back, they showed us that femininity and strength can co-exist. It paved the way for me to believe that women can do anything, no matter what!
Guardians of Krandakar (W.i.t.c.h., 2001)
There's something about magical powers being attached to femininity that made me soldier on despite living in a world that didn't take us seriously. W.i.t.c.h. features another group of high school girls carrying the burden of protecting another world and keeping their powers at bay. It's another trope of school-crime-fighting-and-social-life balance. But what set them apart was the conscious decisions to let certain battles go. After all, we can't pretend that it's easy to carry our burdens. We have to choose our battles.
Kyoshi Warriors (Avatar: The Last Airbender, 2005)
Avatar: The Last Airbender is wonderfully written, from the way it navigated political and societal issues to the very diverse and multi-layered character lineup, like the Kyoshi Warriors. Putting a group of strong and reliable non-bending women fighters in a universe where element bending was the definition of power was so important. It taught me that women are capable of fulfilling any role, and that women can protect others with their own abilities.
The Heathers (Heathers, 1989)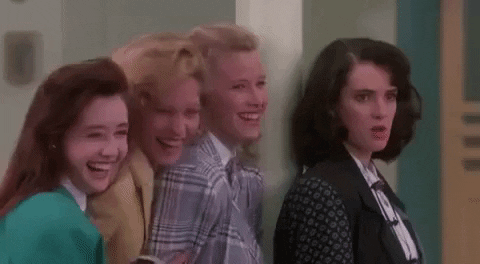 Nothing like the typical setup of a popular girl crowd to be one of the girl gangs I want to be part of. Don't get me wrong, I've watched Heathers and knew that things between this squad went awry for a long while before some reconciliation. But do let me indulge myself by wanting to be part of an alpha female squad. They're unapologetically true and dare I say it, in-your-face. It morphed my earlier sense of strong woman, one who eventually went against social hierarchies to be herself.
Charlie's Angels (Charlie's Angels, 2000)
How can one not want to be part of the Natalie, Dylan and Alex trio? The way they shape shifted into different people for their missions was amazing. The Angels smashed the stereotypes, including that of the smooth and polished woman. They had their moments of vulnerability, clumsiness and concurrent slew of mistakes. But the Angels were still ready to get back up on their feet and jump over hurdles that come their way. A rebound best done with your solid best friends.
The Coven of Ms. Robichaux's Academy (American Horror Story – Apocalypse, 2018)
The roster of witches in season eight are older and wiser, no longer riddled with the angst and competition to be the next Supreme. Their concern for that season was to save the world. Being backed in a corner like that had them making major choices, such as bringing back old friends and reshaping the way they ran the coven. These women showed us that once you find your own tribe, you'd do anything in your power to protect them. Yes, even reviving some of them three times over.
RELATED: Pop Occulture: The Witch & Her Craft
Donna and The Dynamos (Mamma Mia, 2008)
Donna and The Dynamos may not have cool, dangerous powers or an obligation to protect an entire village, but they're still pretty much badass. They taught me one of the most valuable lessons often forgotten in adulthood: being in touch with our youth. Donna, Tanya and Rosie are the blueprint of the Tita Squad of my dreams. They're mature, supportive and smart but still very much the definition of fun. Just take a look at the scene where they yelled "Screw them if they can't take a joke!" at Donna before launching into their Dancing Queen dance number.
We may not be busy saving galaxies from villains or maintaining the equilibrium between Earth and Hell, but thriving in this era also is a feat in itself. We fight our own battles on the daily, some on our own or sometimes we share it with our real-life girl gang. Winning can be instant or we're faced with losses before we see the light at the end of the tunnel. What's important is that you soldier on!
Art Alexandra Lara