Read Time:
4
minutes
Two words: Donkey Kong
The Nintendo Switch, as it stands, is still my best purchase for 2019. I take bang-for-your-buck seriously, so I make sure every centavo I spend is worth whatever it is I'm buying (see: cost per use). But seven months and three finished games later, we're still on the Switch, on the lookout for new releases and great deals, including the critically acclaimed and multi-awarded indie game Cuphead that we can't seem to beat (don't deal with the devil indeed), but that's for another story. Recently, we came across the FREE—some with in-game purchases and are demo versions but still—section and the titles are incredibly varied. From classic favorites (two words: Donkey Kong) to lesser known but decently rated MMORPGs and a game that will get you up on your feet, there's plenty to download for solo and multiplayer gaming—and again, all for free. Just make sure you have a Nintendo account to access the eShop ?
Below, a list of curated games, tried and tested by casual gamers.  
A free-to-play online action game, Ninjala's visual style is charming and the gameplay itself is fun. But it's not without shortcomings of which story mode is commonly cited. (Yes, it's nothing like Splatoon, k). But you know, if you're just in it for a cute, fun time, this might just be the game for you. 
This one's for both the Pokémon and puzzle game lovers! Free-to-start, the goal is to solve the puzzles by linking together Pokémon items before you run out of turns. The prize? You get to expand your cafe and menu, and recruit cute Pokémon pals.
Okay, this one's not really a game but a challenge. Jump rope virtually and get your numbers up with every successful hop. Play solo or with the fam and beat the high score.

Trivia time: Jump Rope Challenge was created by a small group of Nintendo developers while WFH in Japan to add some quick and fun movement into their daily lives. Do remember to stretch before you play! FREE only until September 30, 2020.
via Nintendo 
In this free-to-start multiplayer, you can choose from four unique Kirbys or roles and join up to three other players to defeat bosses. The gameplay is pretty simple, but the complexity lies in the weapons, armor and the roles you choose. 
Go for Story Quest should you want to play solo or try Party Quest to play with other gamers via local wireless or online. Whichever mode you choose, you're in for a good time.
With an online mode exclusive to Nintendo Switch Online members, players can compete and join online events. Put your speed, skill and strategy to the test and knock out the competition. Winners get badges they can use on future attacks and good ol' bragging rights.

via Nintendo 
Enter: Japanese style MMORPG battle action. In this version of old Japan filled with spirits and monsters, you'll play alongside famous historical and mythical figures, like Shizuka Gozen and Miyamoto Musashi. All to battle and defeat one terrible foe, Kamiku.
The reviews are polarizing, but the only way to know if it's your kind of game is to download and play it yourself.
via Nintendo 
This one requires a Nintendo Switch Online membership to download and play. Once that's out of the way, you get exclusive access to a library of NES classic games, including The Legend of Zelda, Super Mario Bros. 3 and Donkey Kong (!!!). Depending on the game, you can play online competitive or co-op multiplayer, or just pass the controller when you've had your turn.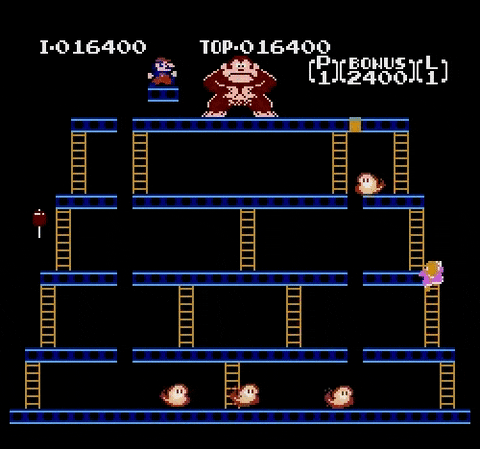 Chapter 2, Season 3 of Fortnite will take you on an island adventure. Attack bands of Marauders or water ski with a shark just for fun. Or, you can get serious and squad up with friends online to build huge forts, take down the enemy and earn your victory. 
Set off to Tumblecube Island with your Pokémon to search for loot and befriend or battle other Pokémon. Free-to-start, you can modify your characters with Power Stones to make the ultimate expedition team.  Did we mention, everything's in cute, cube-shaped style?

via Nintendo 
If you're into survival horror games, then you're probably no stranger to the Fatal Frame series. Specific to Fatal Frame: Maiden of Black Water, the game features three interconnected stories that intersect to uncover the truth behind a string of tragic deaths. Your character is one of the three people gifted with the power of Camera Obscura, as well as the ability to see the departed. Use your skills to explore ruins, shrines and haunted lakes. To continue playing and get past the first two chapters, you'll need to purchase the full game. 
RELATED: Luigi's Mansion 3 Review
Got any more recommendations? Let us know in the comments below!
Art Alexandra Lara